The SMS-M team has a wealth of experience in design and construction of modular buildings. The majority of our experts has been working in this areas since 2001, when prefabricated buildings just started to gain popularity as a cheap and effective way of solving business problems. Over the years, we managed to gather a team of responsible people, united by a common purpose and an idea.
Our work as members of the LLC SMS-M commenced in 2011, when our first cabins workshop was opened in Rodniki, Moscow region area. During our still relatively short history, the company, which had at its disposal just a workshop of 1500m2 at the very beginning, grew up to a complete modular buildings plant with a total production area of 5000m2 and the number of employees more than 150 people. At the moment, we have established work in the following areas:
modular buildings manufacturing;
metal constructions manufacturing;
PVC windows manufacturing;
trapezoidal sheet manufacturing;
stainless steel products.
Activities
Modular buildings
Metal constructions
PVC windows
Trapezoidal sheet
Stainless steel
Development plans
Currently we have 3 workshops at our disposal:
a metal constructions and cabins frames workshop - 1500m2;
a modules finishing workshop - 1200m2;
a workshop that joins stainless steel products activities, a trapezoidal sheet rolling mill and PVC windows production line - 2000m2.
And we are not going to rest on our laurels! The plans include an extension of our painting facilities and installation of a sandwich panels production line - for this purpose another hangar of 1000m2 is being built.
A cooperation with SMS-M is a constant reference point for the development and ongoing progress! We like to surprise our customers with our high quality standards when solving their business tasks.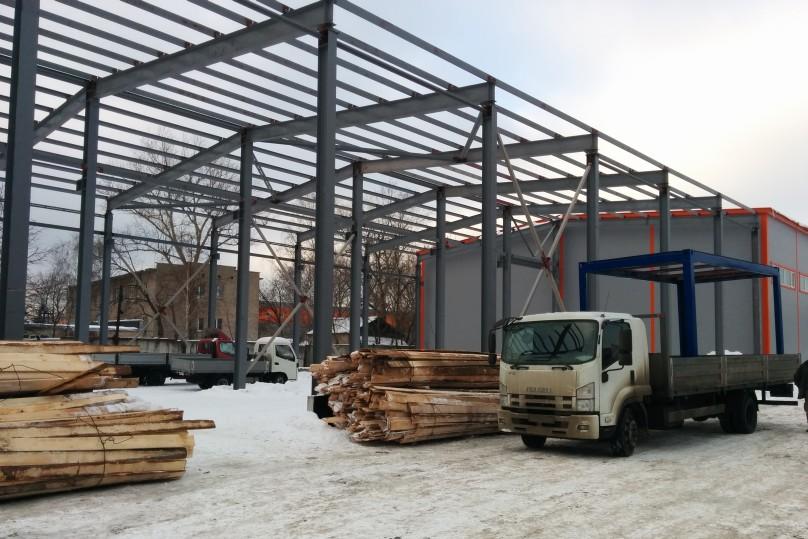 Building a new 1000 m2 workshop.
Некоторые наши здания