The SMS-M team has a wealth of experience in design and construction of modular buildings. The majority of our experts has been working in this areas since 2001, when prefabricated buildings just started to gain popularity as a cheap and effective way of solving business problems. Over the years, we managed to gather a team of responsible people, united by a common purpose and an idea.
Our work as members of the LLC SMS-M commenced in 2011, when our first cabins workshop was opened in Rodniki, Moscow region area. During our still relatively short history, the company, which had at its disposal just a workshop of 1500m2 at the very beginning, grew up to a complete modular buildings plant with a total production area of 5000m2 and the number of employees more than 150 people. At the moment, we have established work in the following areas:
modular buildings manufacturing;
metal constructions manufacturing;
PVC windows manufacturing;
trapezoidal sheet manufacturing;
stainless steel products.
Activities
Modular buildings
Modular buildings workshop.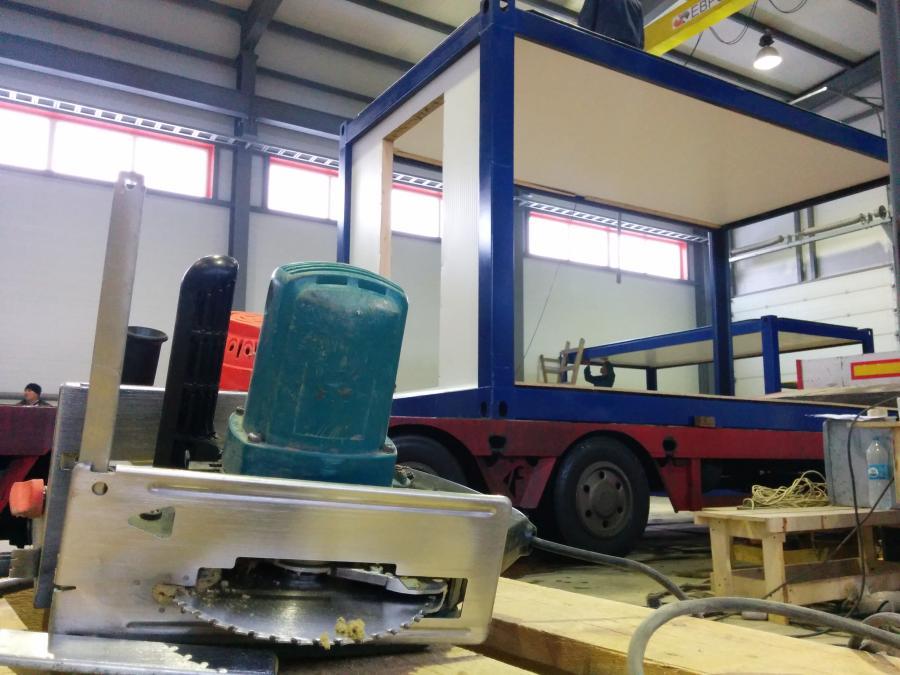 Features:
insulation of the cabins floor and ceiling frames;
cabins floor and ceiling fine finishing;
preparation of wall sandwich panels and their installation;
installation of doors and windows;
fabrication of additional elements and cover strips.
Equipment:
two entrance gates;
a 5 ton jib;
machines for processing lumber;
a manual bender for bending the sheet metal up to a thickness of 1.5 mm.
The workshop is very convenient for finishing the assembly of block modules, has everything you need for effective implementation of the work, has heating and very good lighting. A very comfortable working environment is created for the staff.
Due to the existing equipment and the good organization of the production process the plant is capable to produce up to 20 cabins per day.
Cabin finishing workshop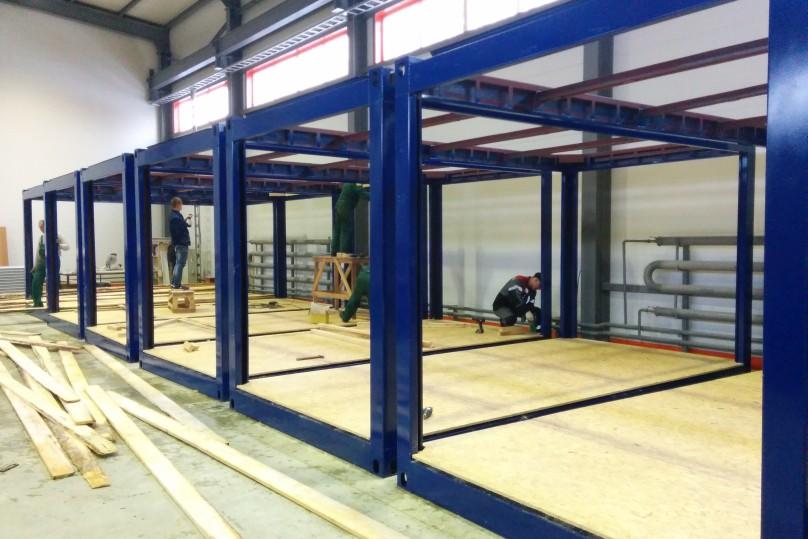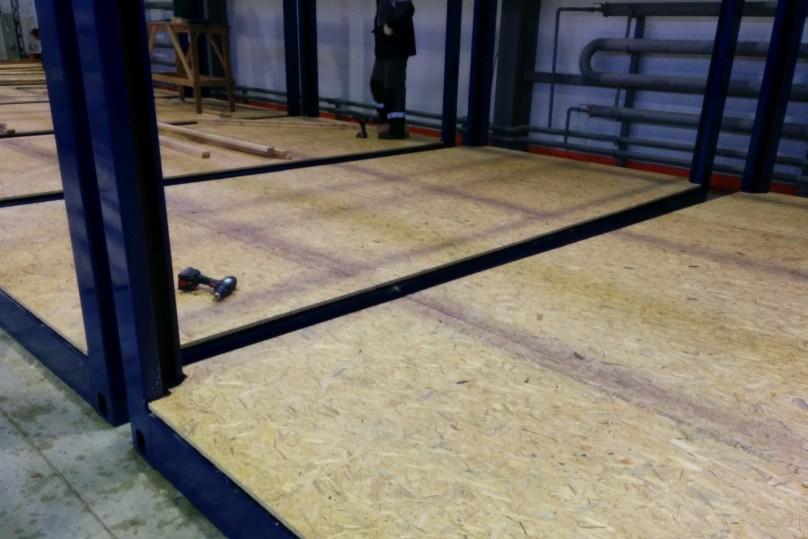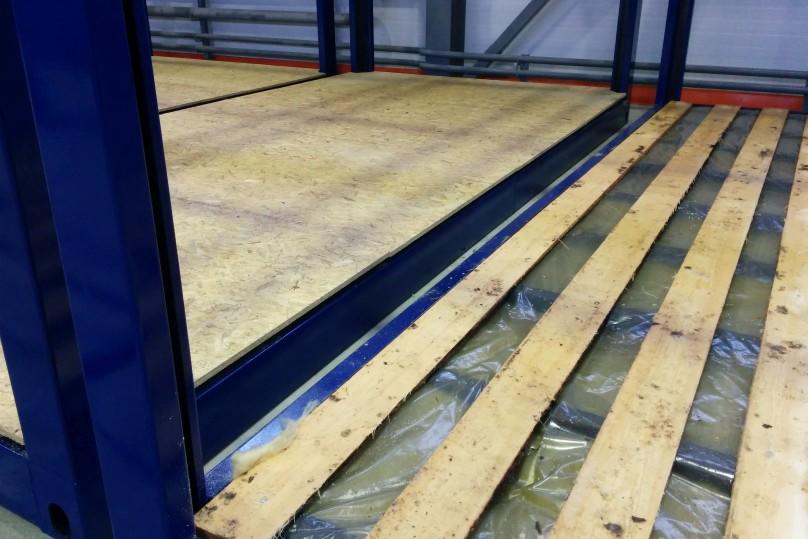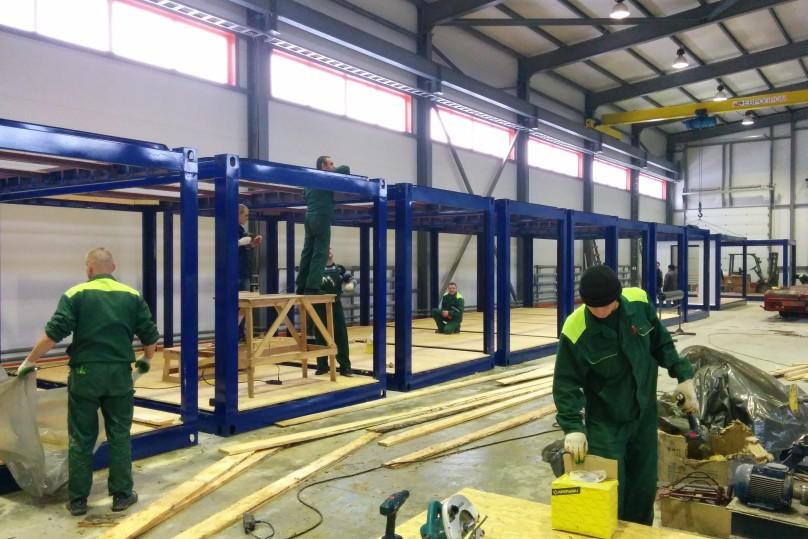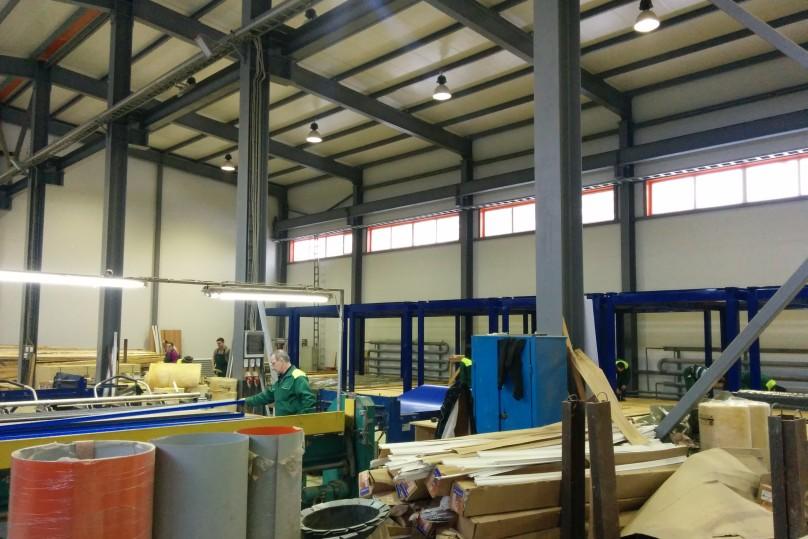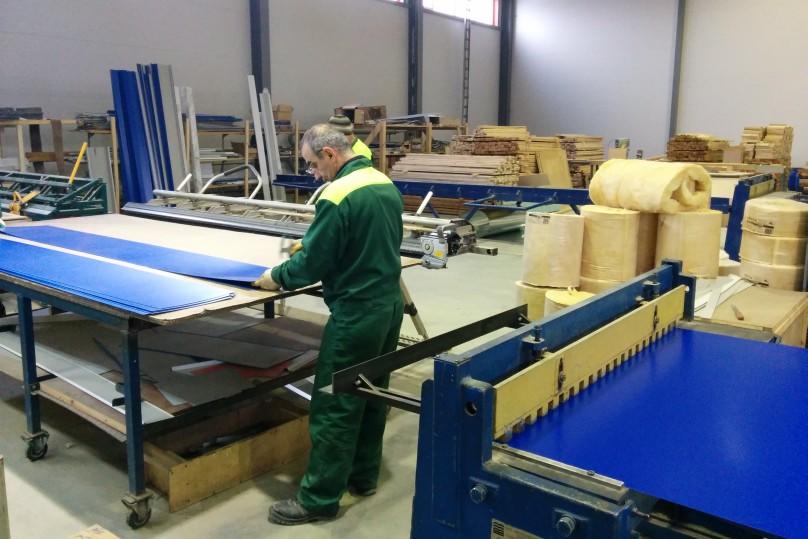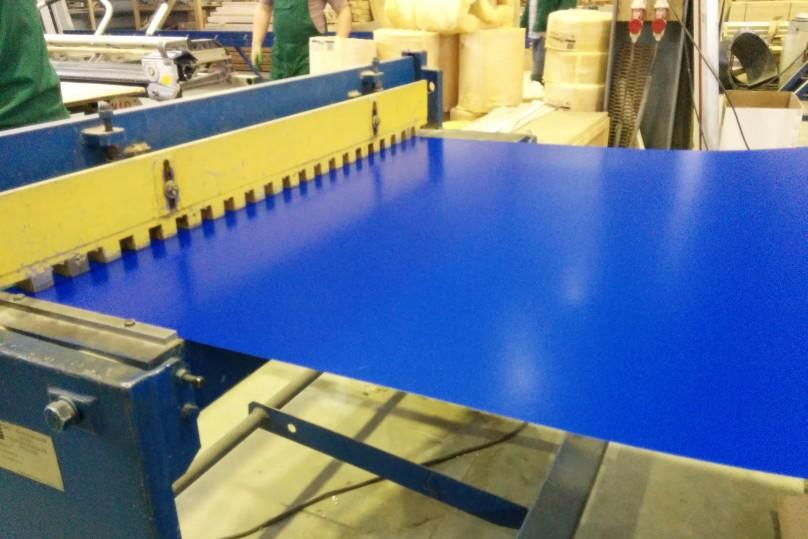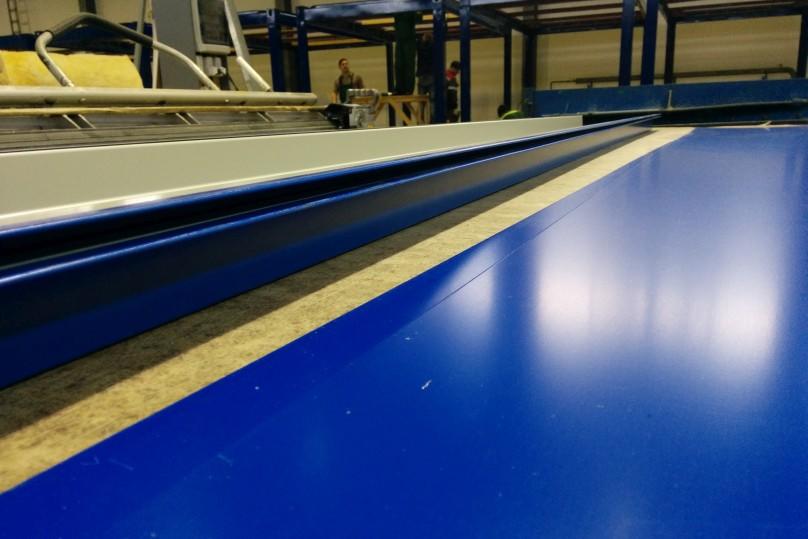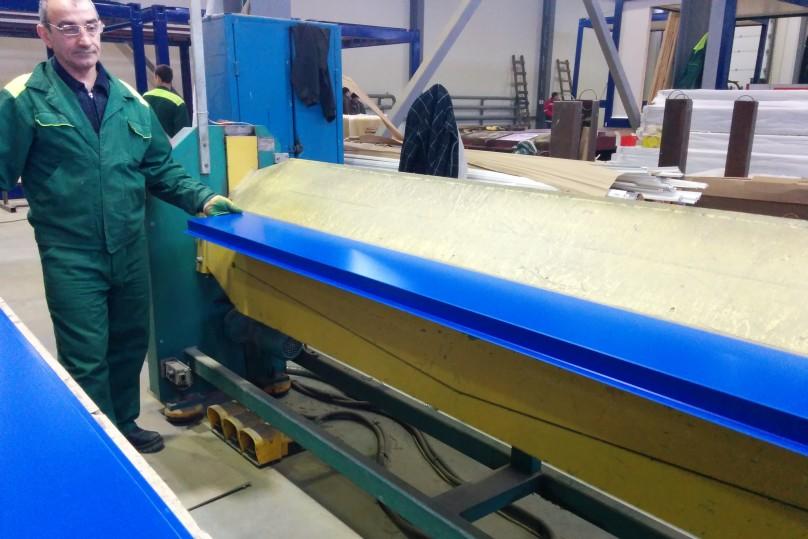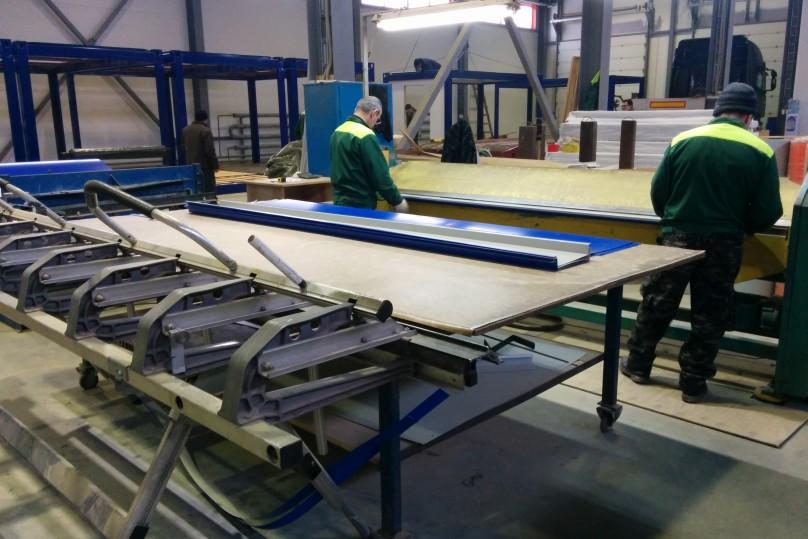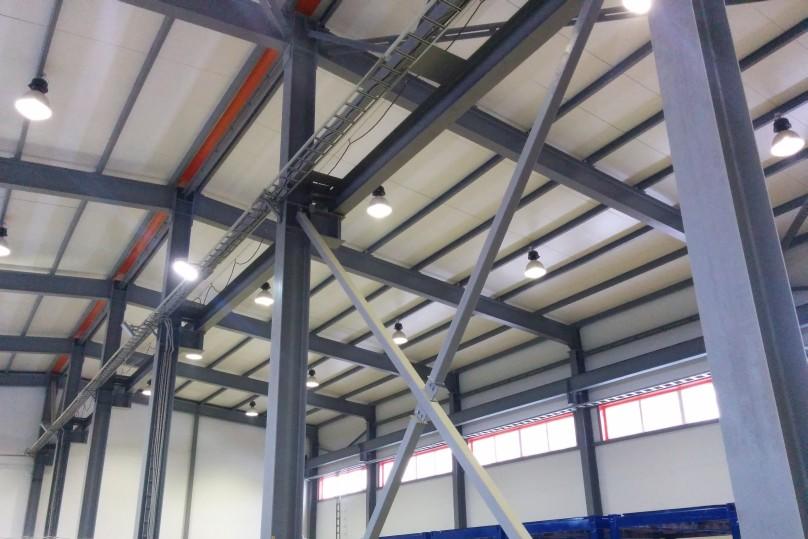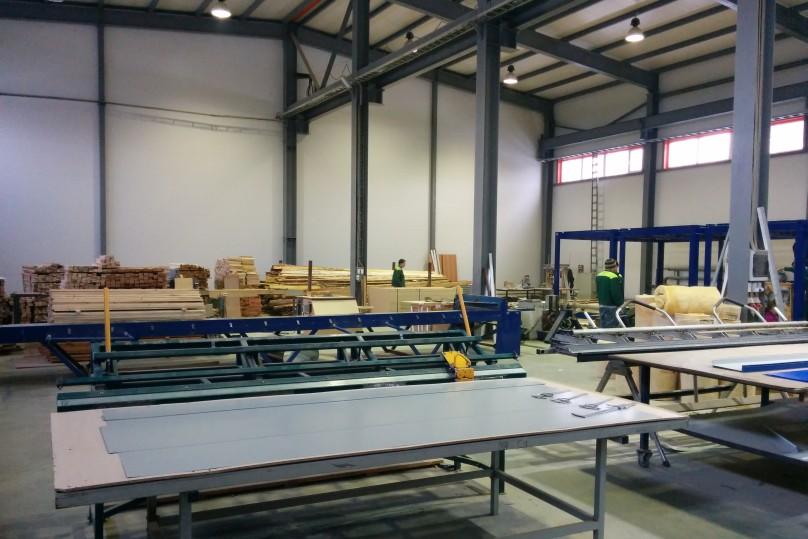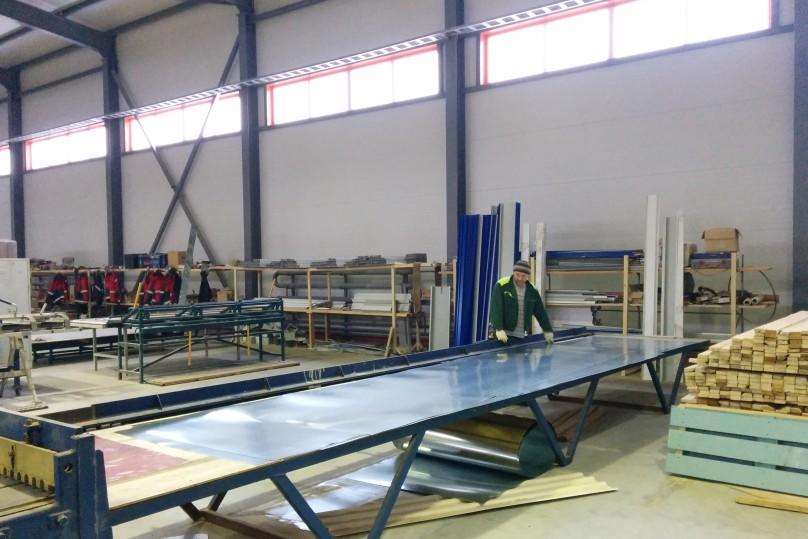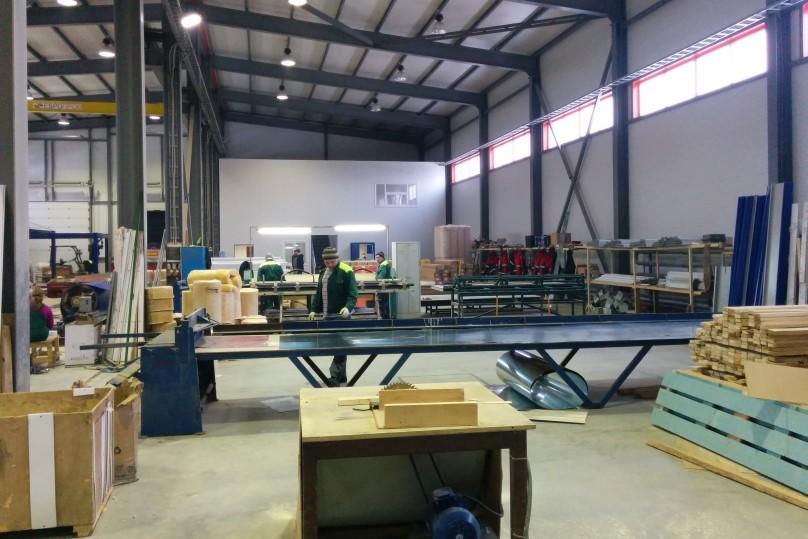 Lifting up modules onto a lengthy truck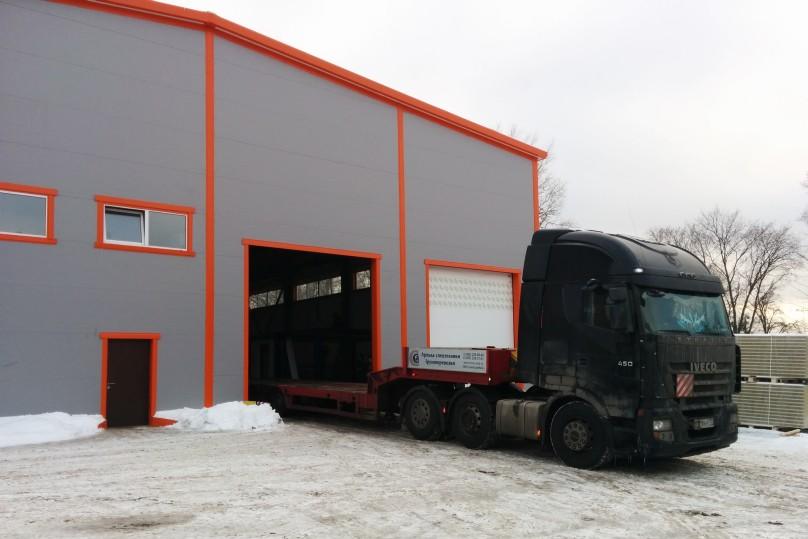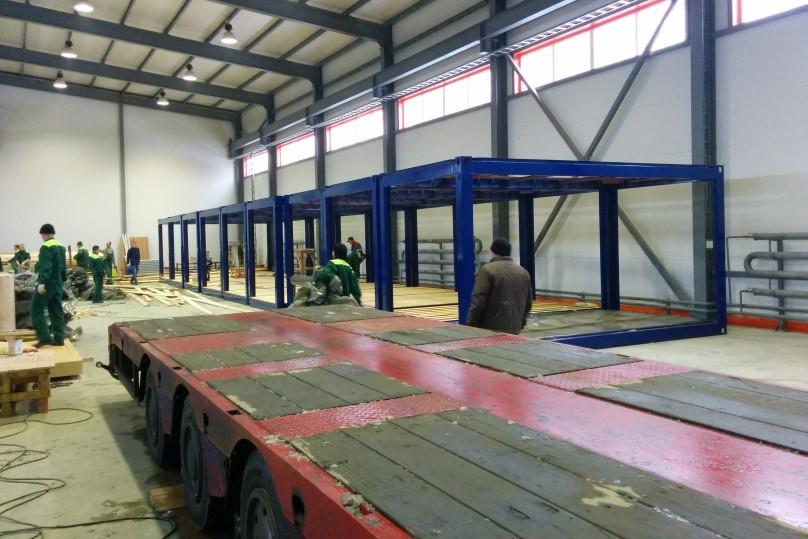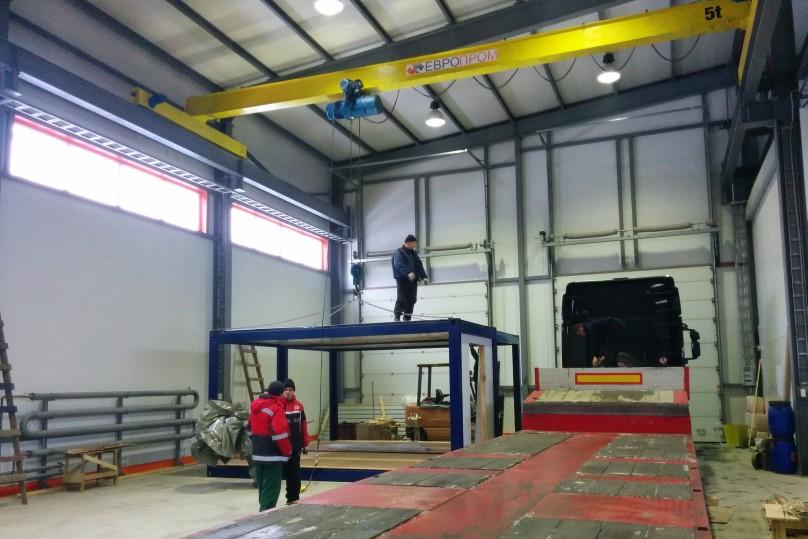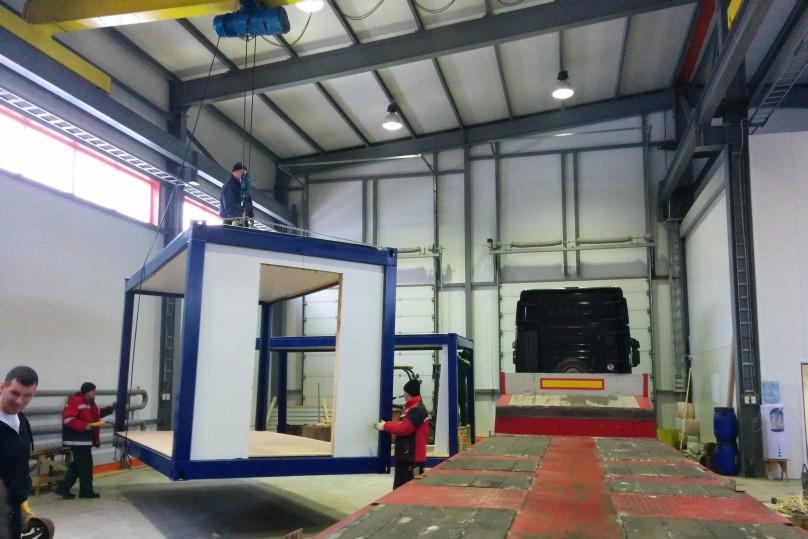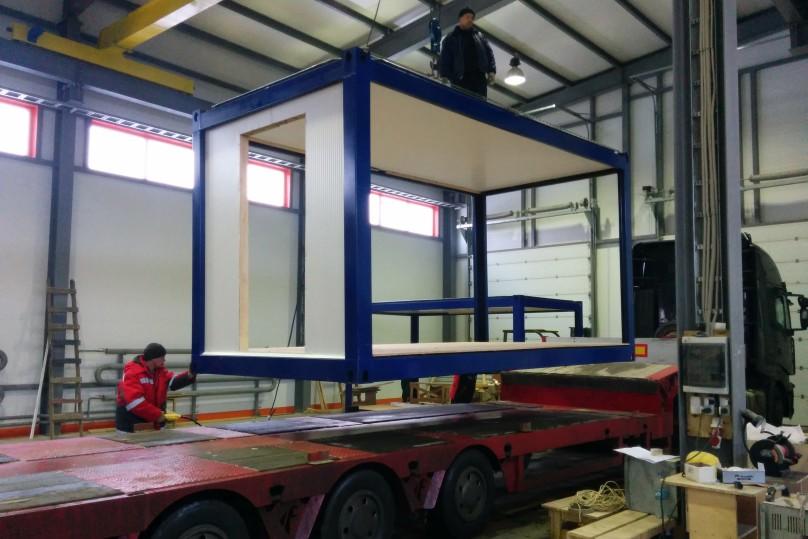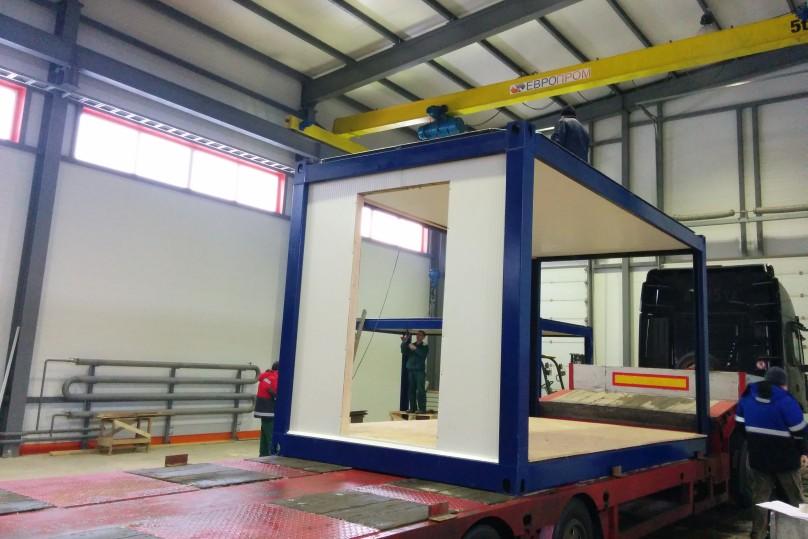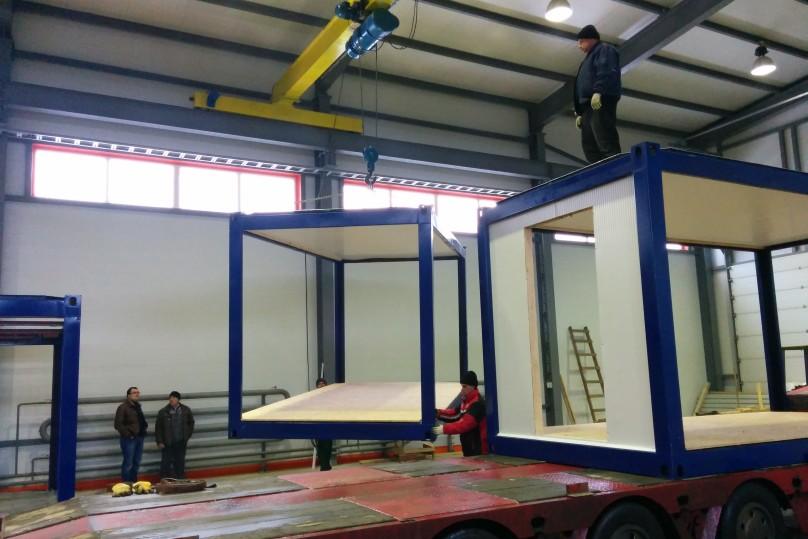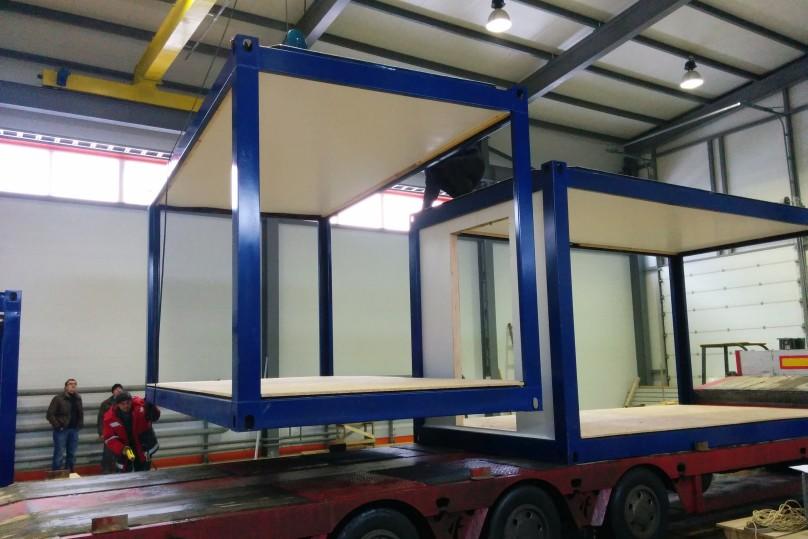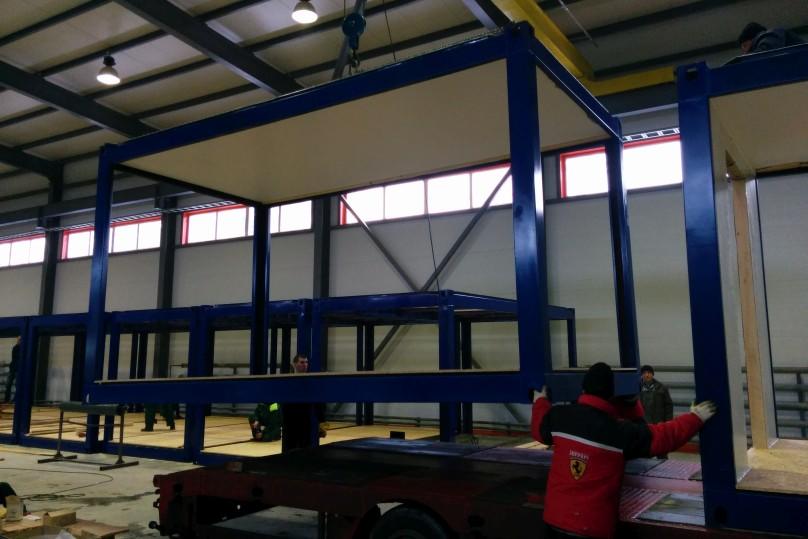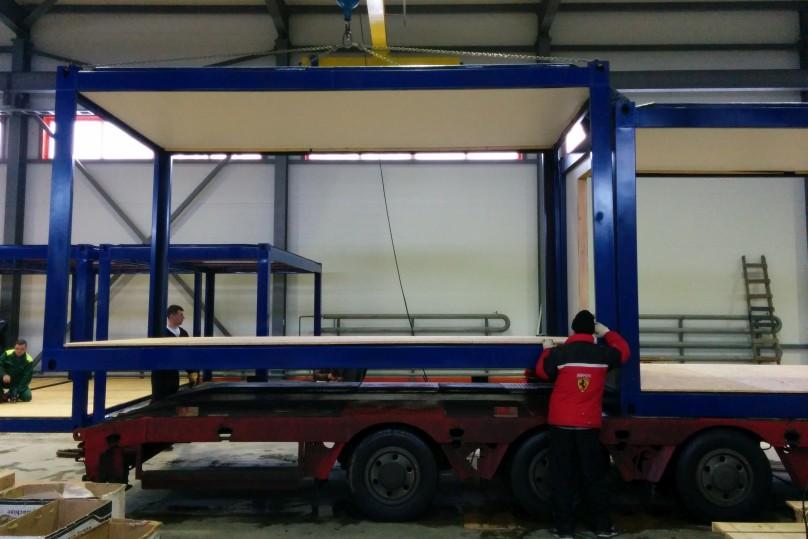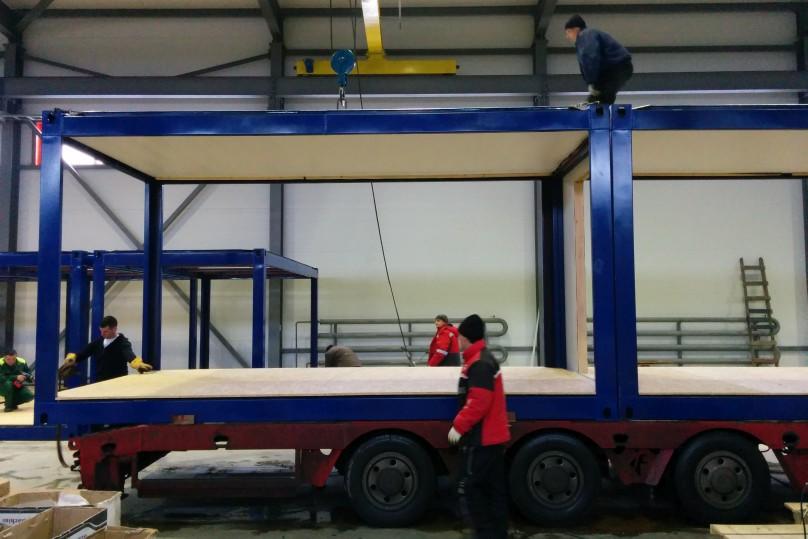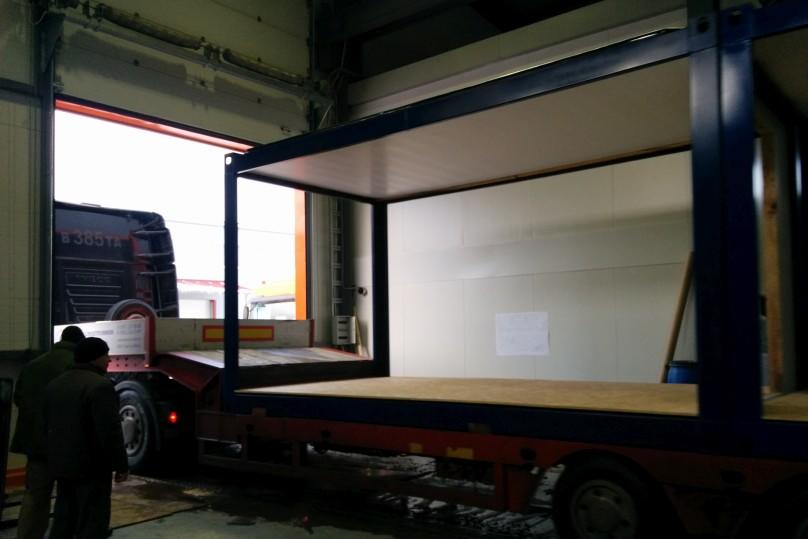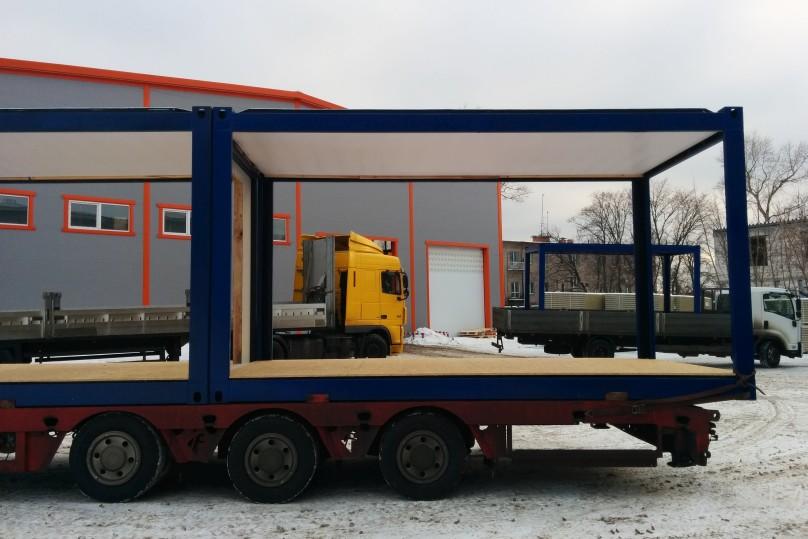 Metal constructions
Metal constructions workshop.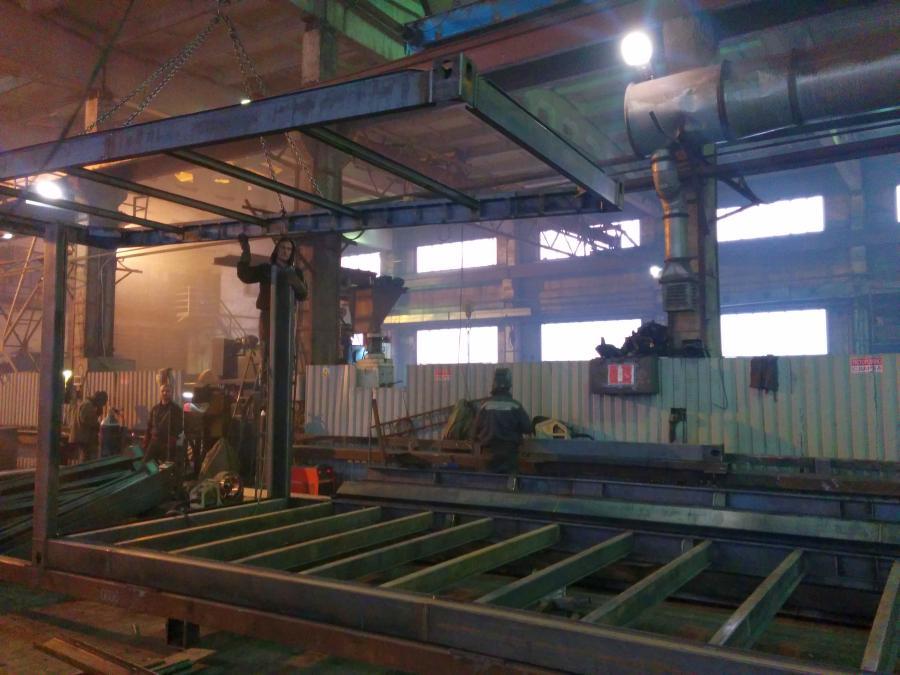 Features:
welding works;
bending sheet metal, Lmax = 3000 mm;
cutting on band saw machine;
sheet metal plasma cutting;
rolling operation.
Equipment:
a decoiler;
welding semiautomatic inverters Torros;
a CNC plasma cutting machine with the working 2x6 meters working table, a Hypertherm MAX 200 cutter and a Harris gas torch;
a beading machine;
rollers for redial bending of profiled metal-roll;
spray booth;
2 jibs with carrying capacity of 5 tons each;
2 entering gates.
The workshop is essentially adapted to the production of the modular cabins frames and is capable to produce up to 20 skeletons per day. With the same high efficiency it may also be used to manufacture metal constructions of any complexity and sizes, starting from tiny embedded parts and fences and ending with large-sized trusses, whose production process is hardly possible without powerful jibs.
Steel structures workshop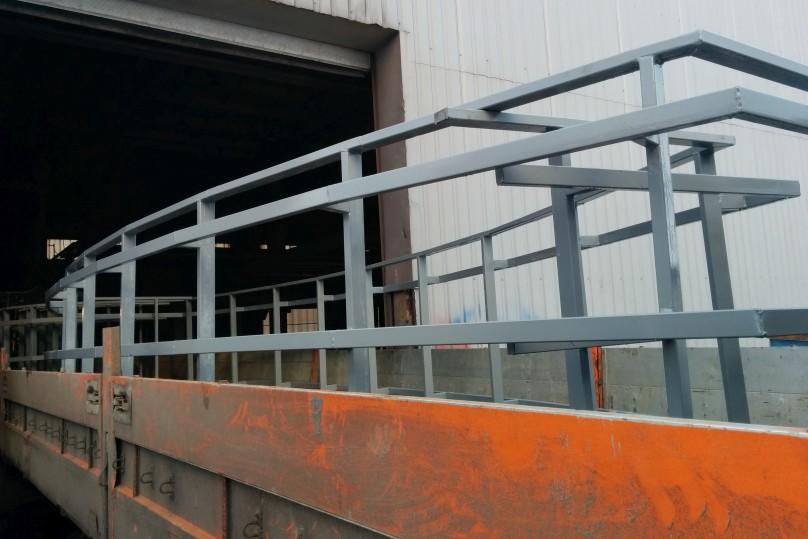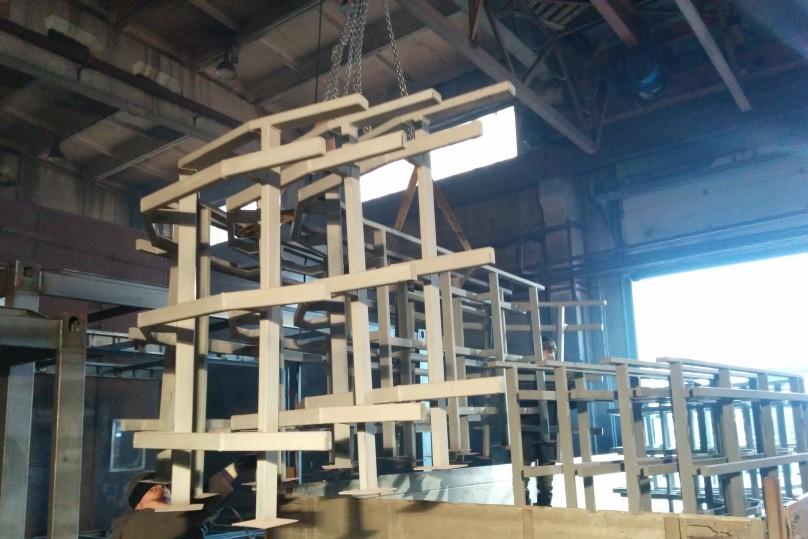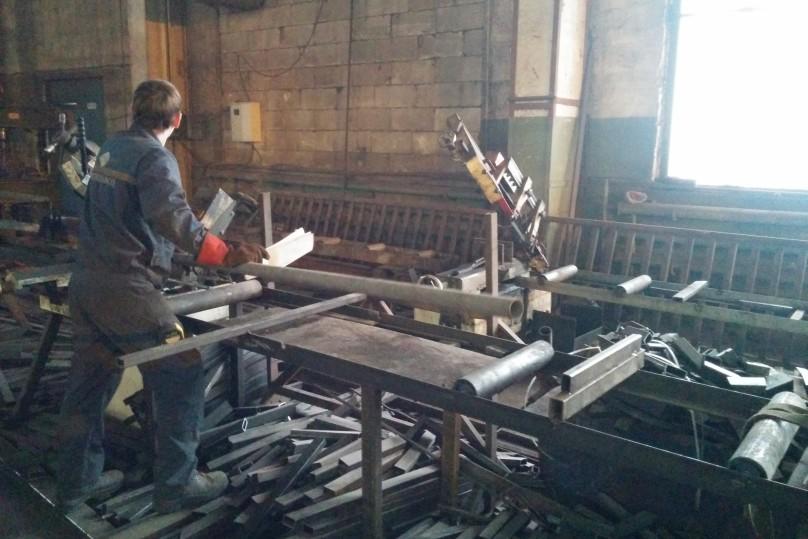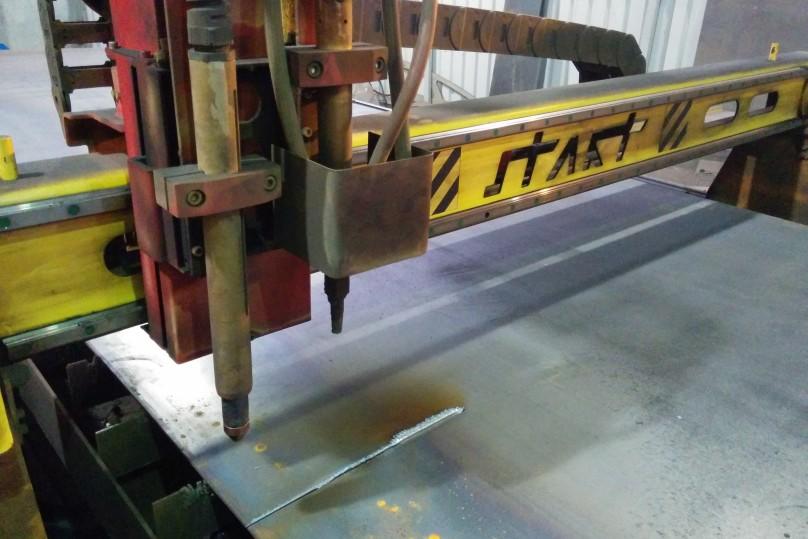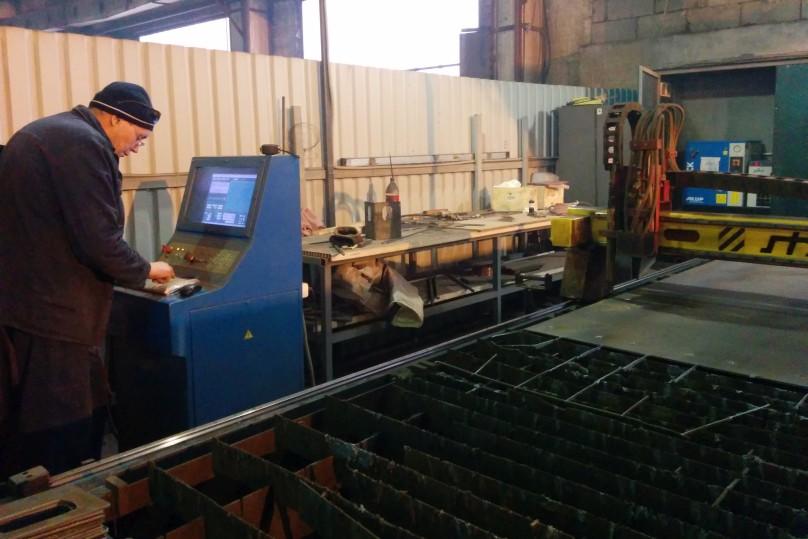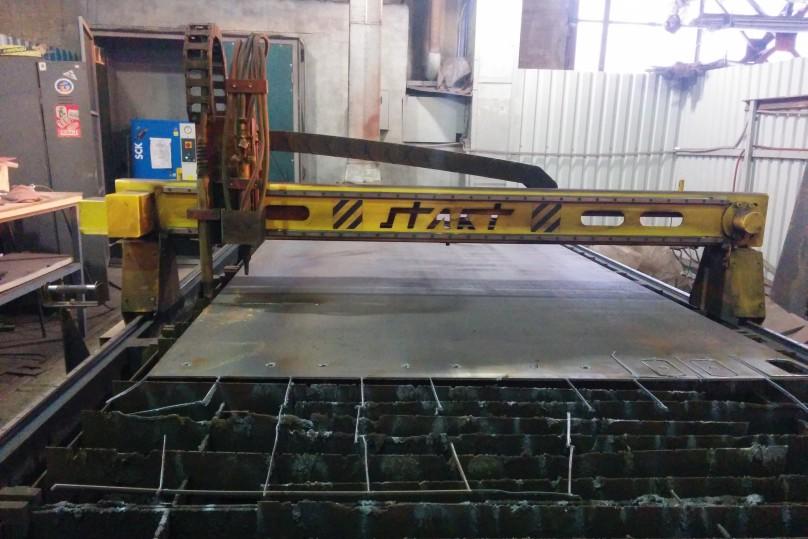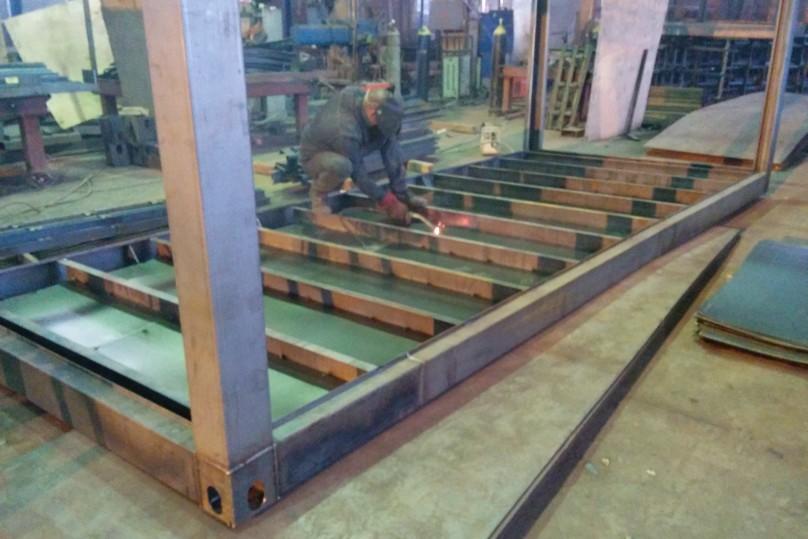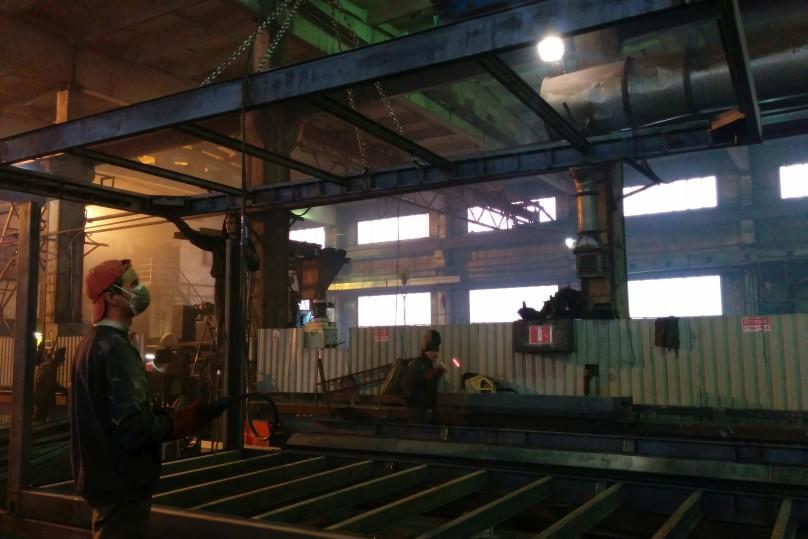 PVC windows
PVC windows manufacturing line.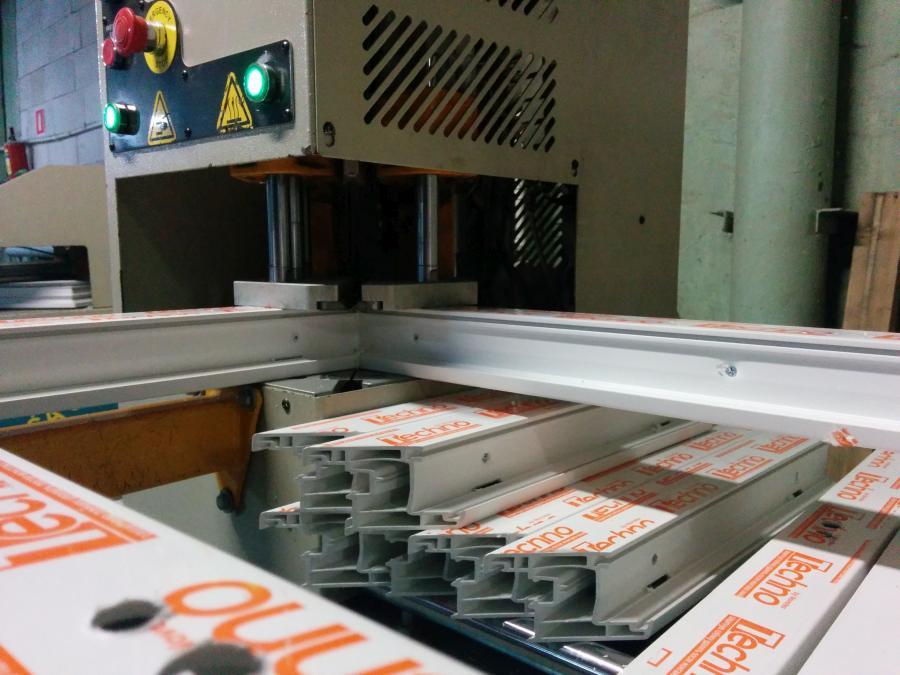 Features:
production of plastic windows from different profiles;
profiles systems used - Tecno, KBE, Novotex, Weltplast, Goodwin;
possibility to install single- and double-chamber windows;
possible use of aluminum profiles;
production of windows of all sizes.
Equipment:
a saw for cutting aluminum with cooling Yilmaz ACK 420 S;
a double head welding machine Yilmaz DK 502;
an angled deburring machine Yilmaz CA 605;
a duplicate-milling machine Yilmaz FR 226;
a machine for impost milling Yilmaz KM 215;
a drain duplicate-milling machine Yilmaz ST 263;
a lamination line PlasMek.
PVC windows production line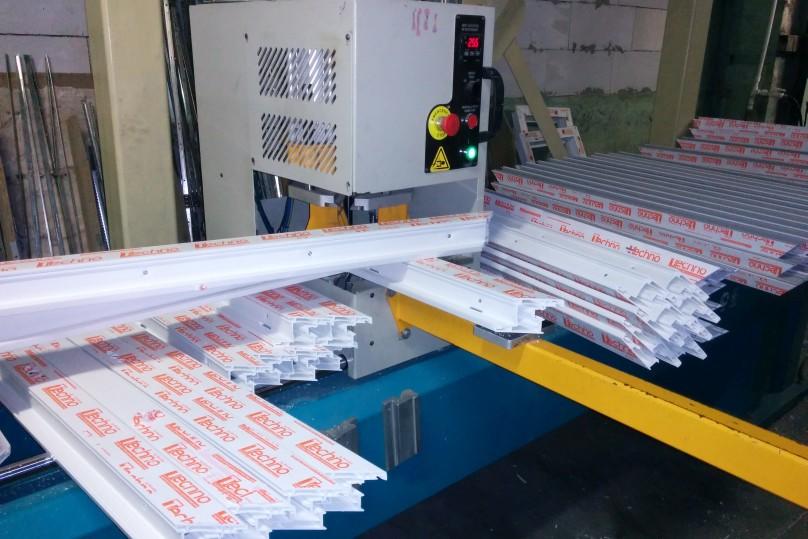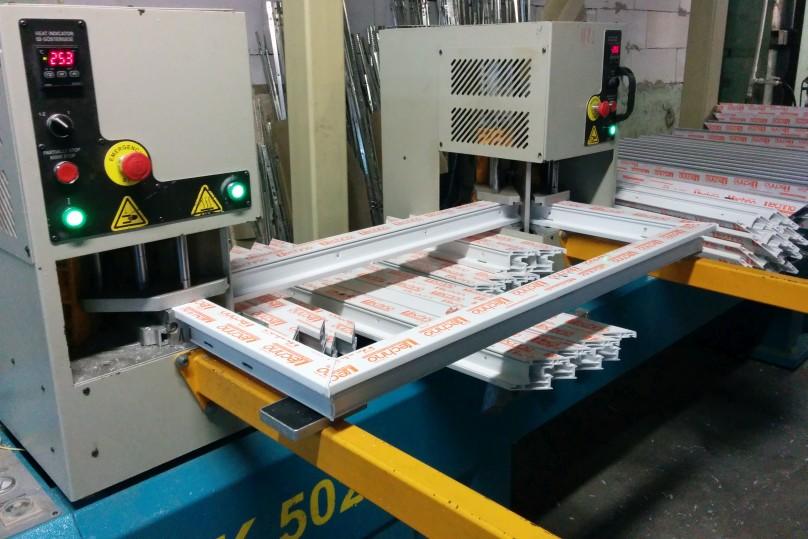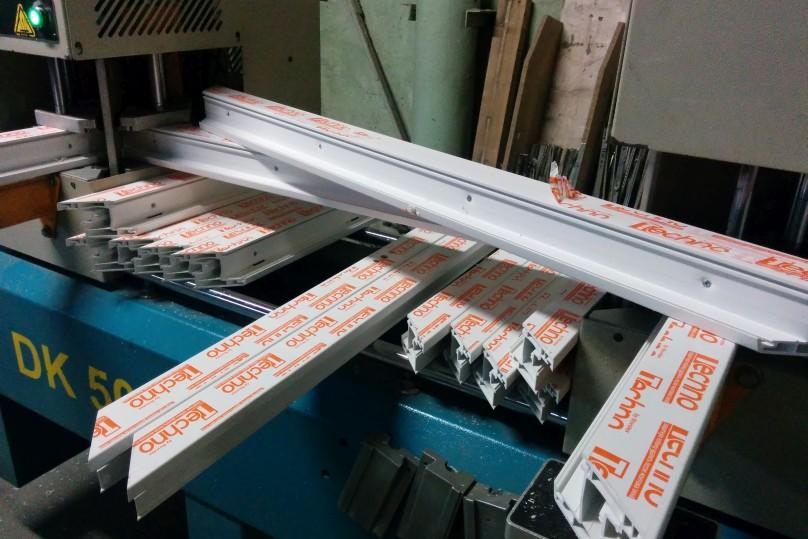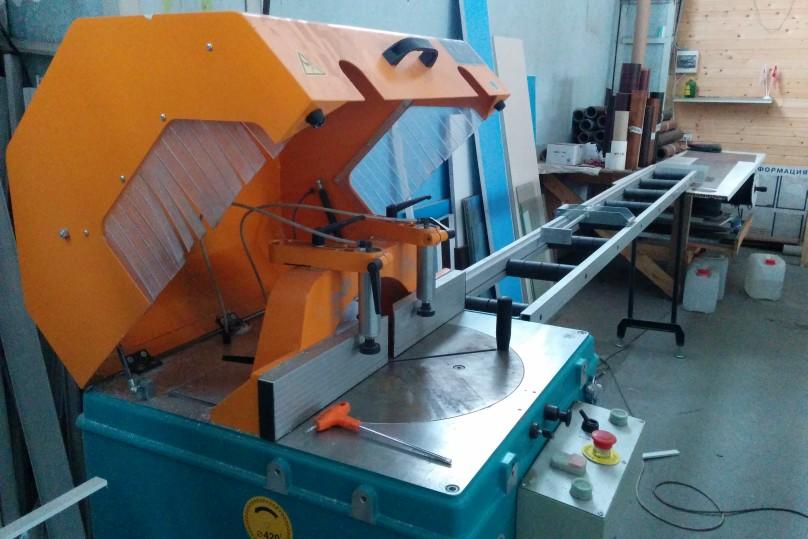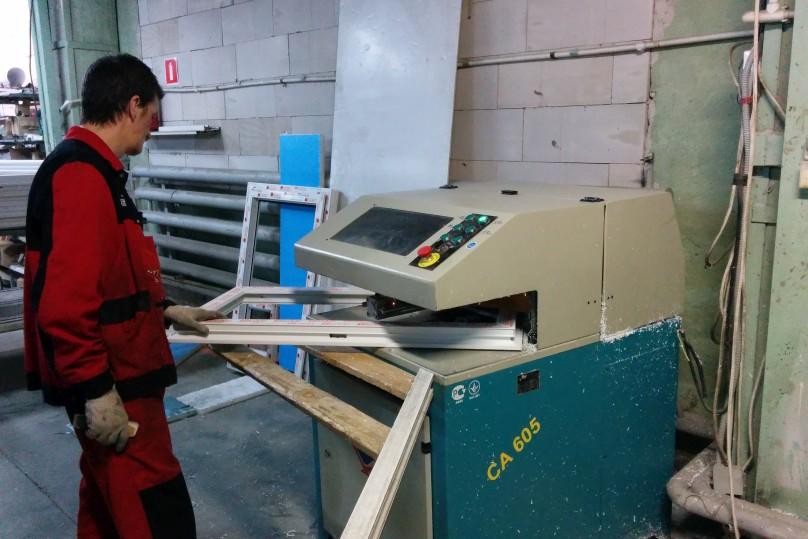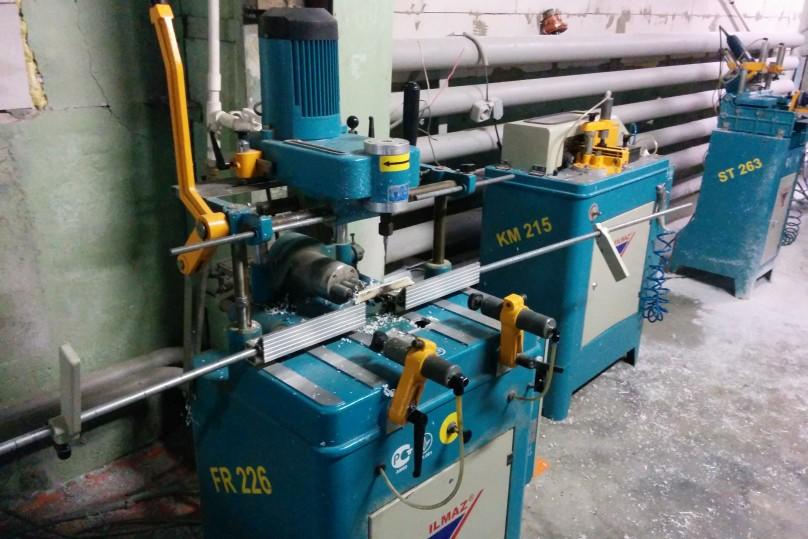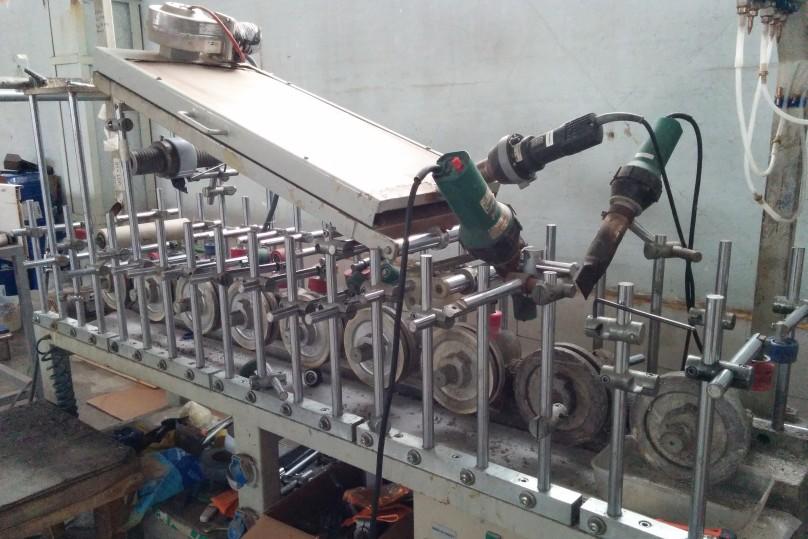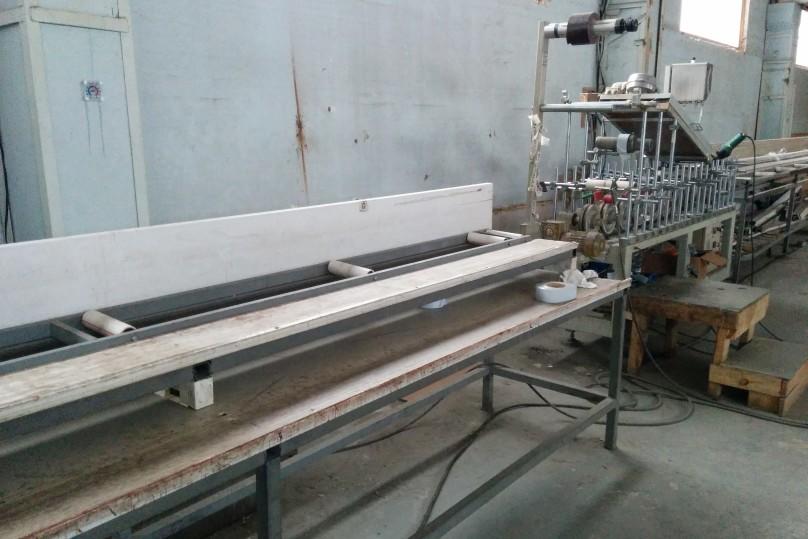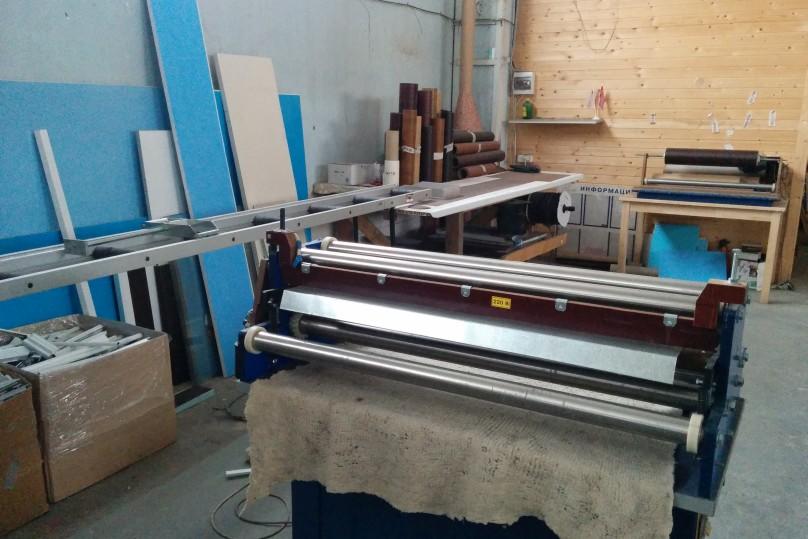 Trapezoidal sheet
Trapezoidal sheet rolling line.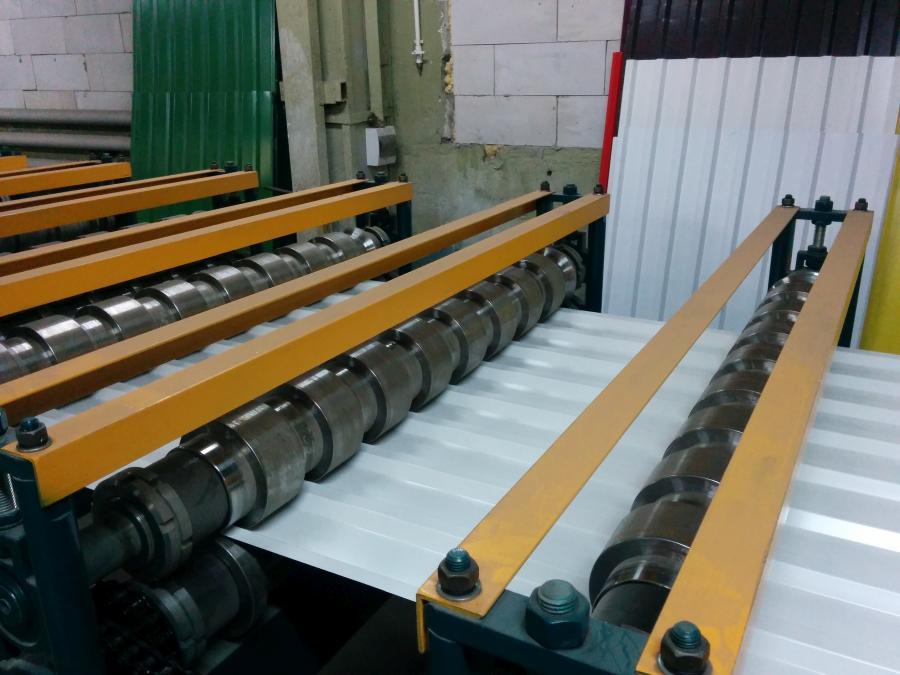 Features:
trapezoidal sheet manufacturing according to "in house" standards;
careful handling of painted sheet;
the possibility of manufacturing profiles C-10, C-18, MP-20, C-21;
high quality products without "X-mas tress" and "underprofiling" effects;
high performance - up to 45 meters per minute.
Rolling line components:
a decoile machine;
a cutting machine for fast roll replacement;
a profiling rolling mill;
guillotine shears for trapezoidal sheet cutting;
a receiving device for stacking sheets;
an automatic control system.
Trapezoidal sheet production line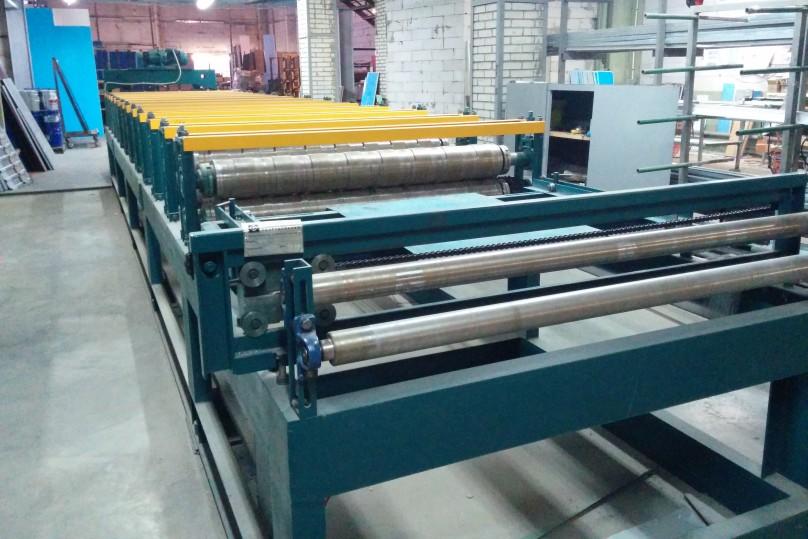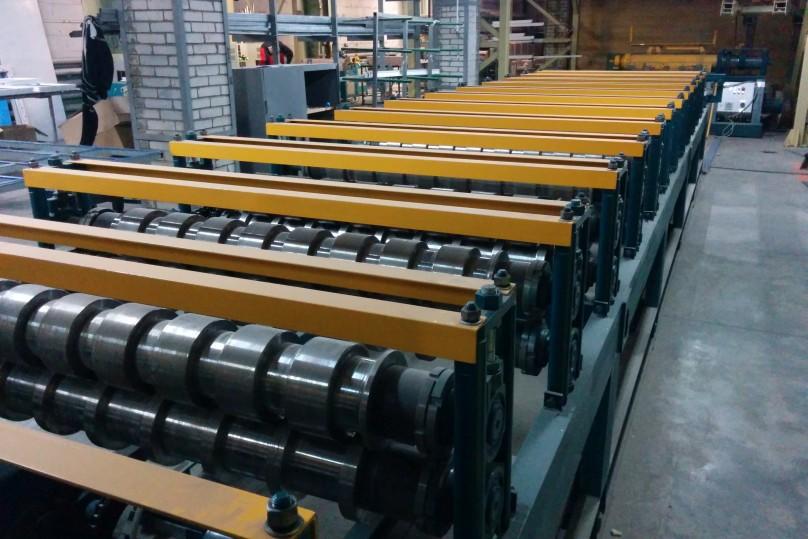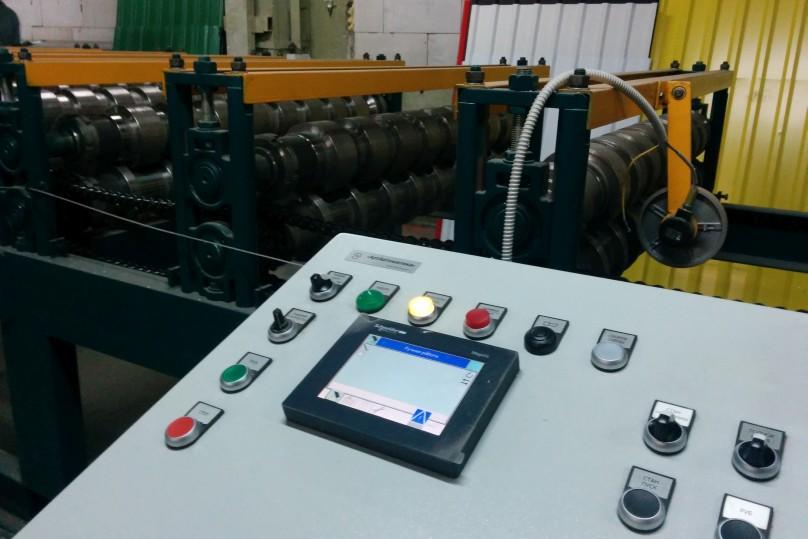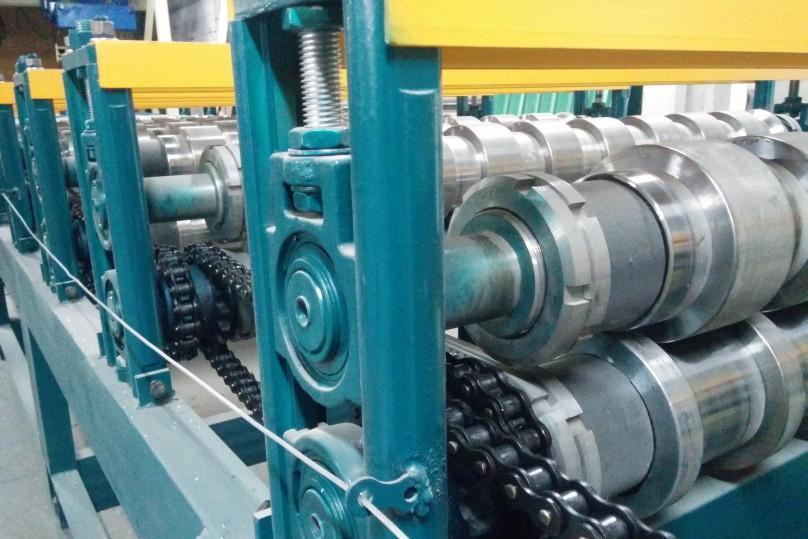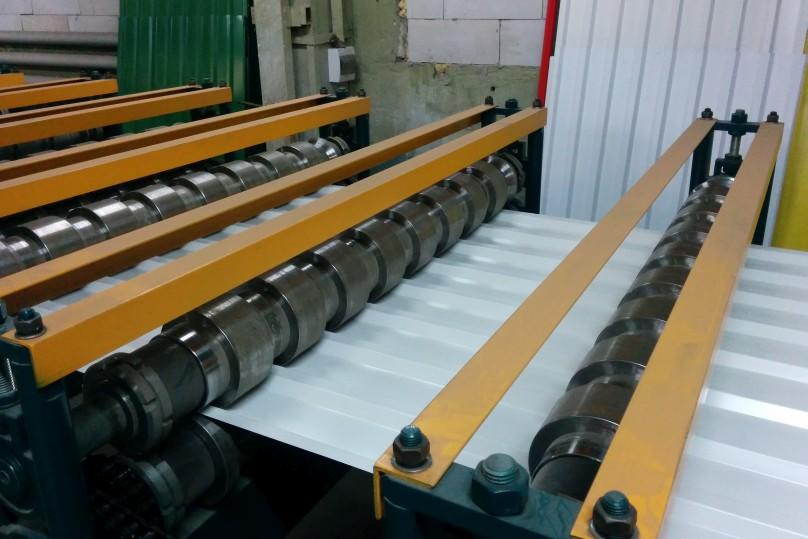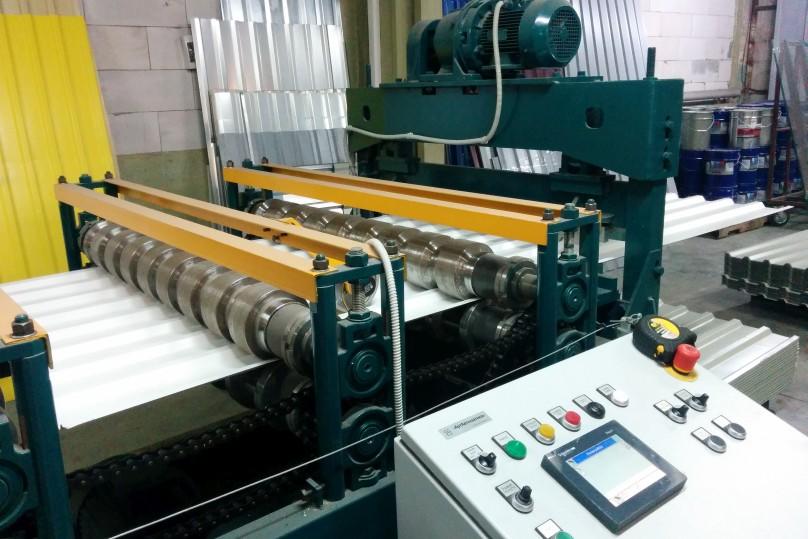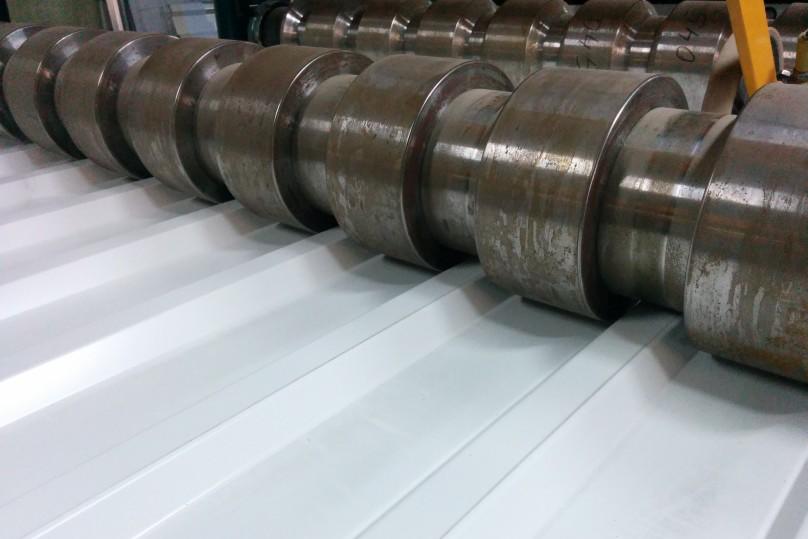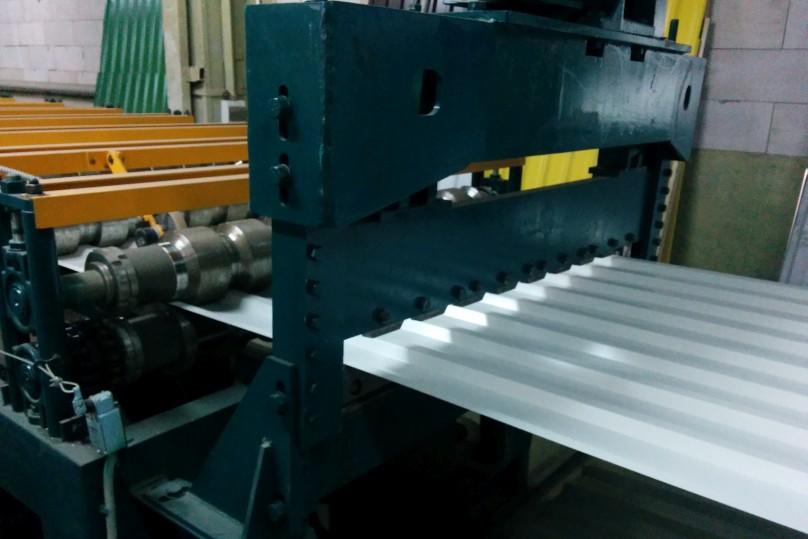 Stainless steel
Stainless steel products workshop.
Features:
bending round pipes in several directions;
stainless steel welding;
cutting stainless steel sheet on the guillotine Aysanmak ARGM 1350x3;
manufacturing crossbars and thrust sockets;
grinding and polishing of stainless steel.
Stainless steel workshop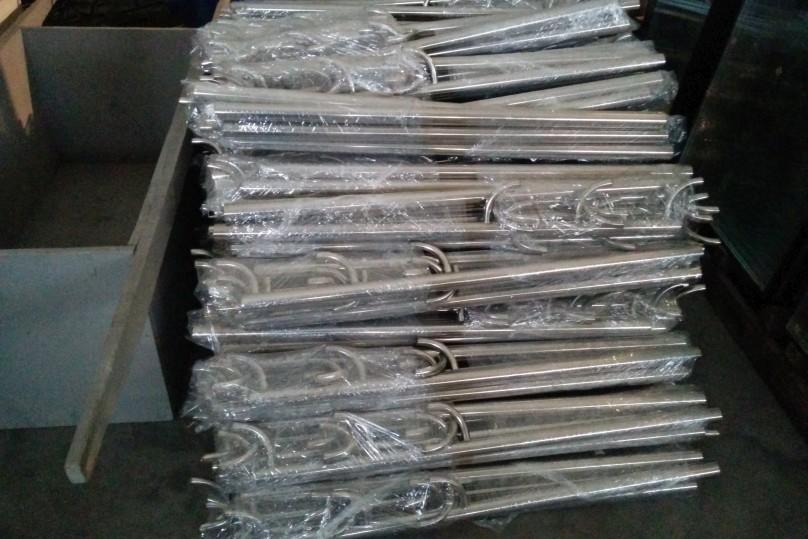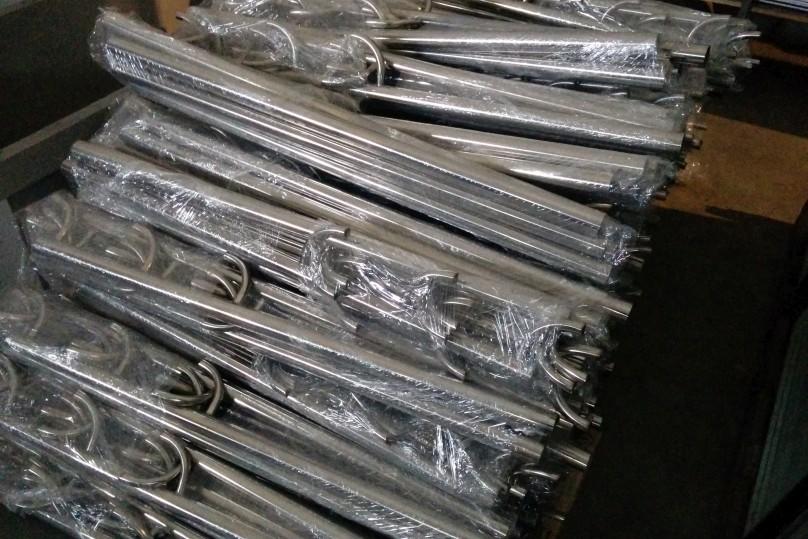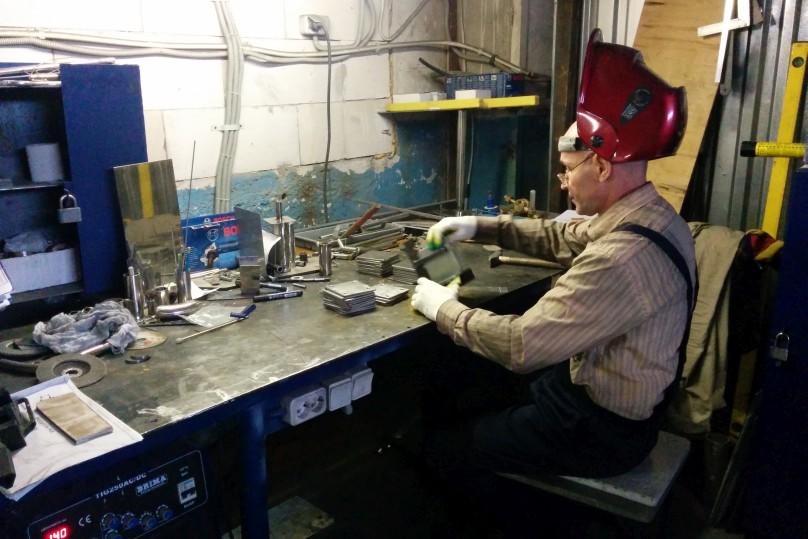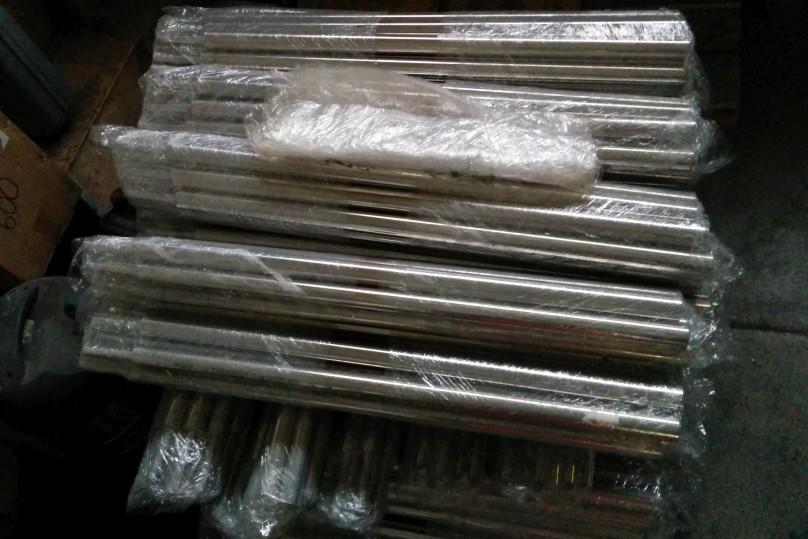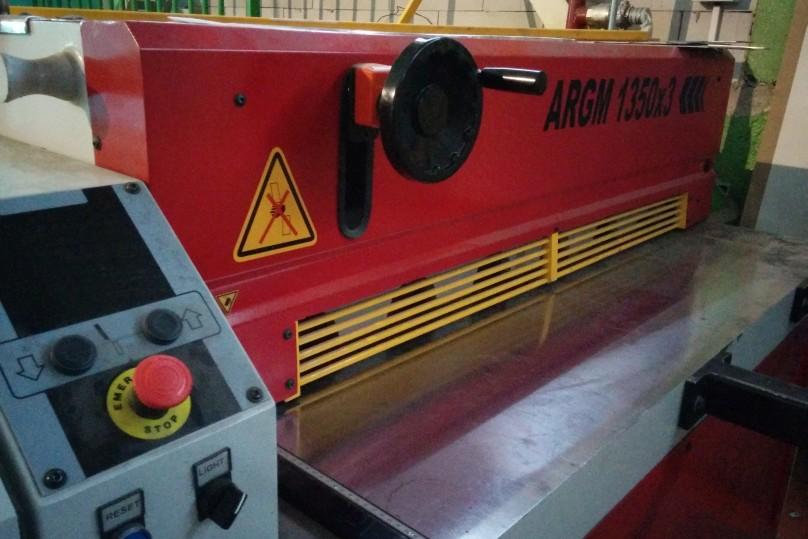 Development plans
Currently we have 3 workshops at our disposal:
a metal constructions and cabins frames workshop - 1500m2;
a modules finishing workshop - 1200m2;
a workshop that joins stainless steel products activities, a trapezoidal sheet rolling mill and PVC windows production line - 2000m2.
And we are not going to rest on our laurels! The plans include an extension of our painting facilities and installation of a sandwich panels production line - for this purpose another hangar of 1000m2 is being built.
A cooperation with SMS-M is a constant reference point for the development and ongoing progress! We like to surprise our customers with our high quality standards when solving their business tasks.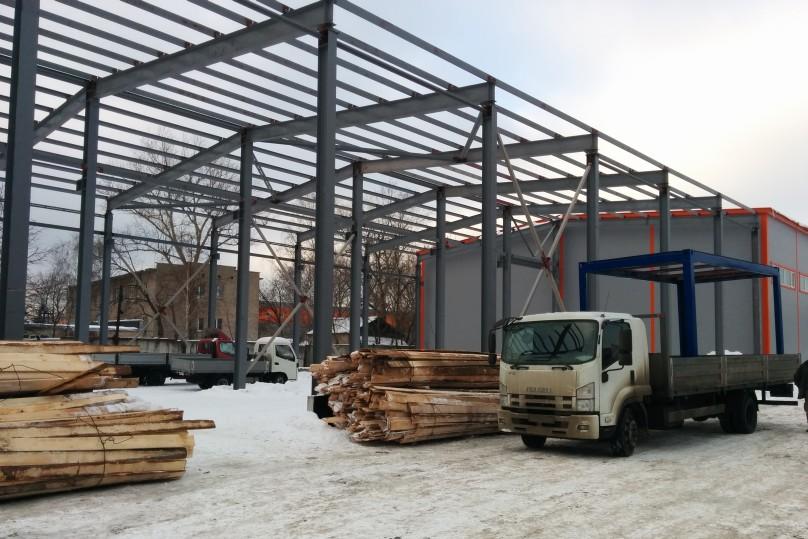 Building a new 1000 m2 workshop.
Некоторые наши здания